It's all in the mix! – HJS Swirl Cap Mixer provides basis for exhaust-gas treatment systems that offer maximum efficiency and resilience
Virtually zero emissions in the non-road segment
The new EU Stage V emissions standard, which came into force on 1 January 2019, will cut pollutant emissions in the non-road segment by up to 98 per cent. For many engine manufacturers, it's a huge challenge to find the necessary space in mobile machinery in which to install their exhaust-gas treatment components. The new HJS Swirl Cap Mixer enables highly efficient admixing of AdBlue® with the exhaust gases at low exhaust backpressures to be integrated into the tightest of spaces. The modular system can be adapted to a wide variety of engine sizes and installation space requirements in a whole range of machinery.
As a leading all-round exhaust system specialist, HJS has developed a highly flexible AdBlue® mixing and atomization unit for integration in the DPF outlet module: the HJS Swirl Cap Mixer. The urea/water solution (AdBlue®) is dosed in the mixing section, where it is mixed with the exhaust gases and vaporised. With this modular system, the diameters and lengths of the Swirl Cap Mixer are scalable, making it possible to integrate it into a wide variety of installation spaces without any problem. Even in a short mixing section, atomization is almost 100% and distribution of the mixture upstream of the SCR catalyst is highly uniform. This results in excellent NOx conversion rates in excess of 97 per cent and minimal amounts of critical deposits. Offering great durability and low CO2 and pollutant emissions well within the Stage V limit values, this new product family from HJS resolves this seemingly contradictory conflict of goals.
Variable layout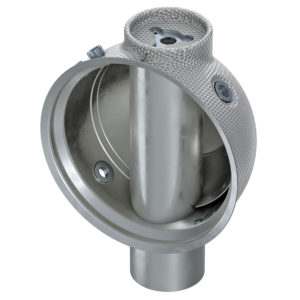 In order to be able to offer both OEM clients and retrofitters a practical solution for all conceivable systems in the power range from 56 to 560 kW, the development team of this German "eco-warrior" – to be understood only in the most positive way – looked to find a variable layout for their system right from the very start. An adaptable installation position close to the engine can always be found, be it horizontal or vertical. In the mixing section, formation of the exhaust gas/AdBlue® mixture is achieved by the shortest possible route, enabling a highly compact design. The high temperatures achieved by installing the system close to the engine lead to a high degree of efficiency.
"After completing the intensive development phase, we are now very pleased to announce that our latest product not only meets the stipulations of Stage V legislation and beyond, but also offers our customers and partners a compact and robust solution for a range of power outputs and displacement classes", emphasizes Managing Director Dr.-Ing. Christoph Menne. "For a large variety of NRMM (Non-Road Mobile Machinery) applications, our Swirl Cap Mixer achieves reductions in NOx emissions that seemed completely unattainable only a few years ago."
From 8 to 14 April 2019, the HJS Team will be ready and waiting to answer questions and provide information on any aspect of emissions treatment systems. You can find us at bauma 2019 in Hall A5 on Stand 203.