Partial flow sintered-metal filter
pSMF
For applications in which a complete removal of the soot particles from the exhaust gas is not required, HJS has developed a rugged and efficient partial flow filter on the basis of the well-proven SMF® technology. The efficiency is optional from 30% – 80%.
Technology and functioning
The hot engine exhaust gases with the soot particles are routed into the filter casing onto the partial flow sintered-metal filter developed by HJS. The gaseous component parts of the exhaust gases flow through the microscopically fine pores of the filter bags. These filter bags hold back the soot particles, including the finest particles, on their surface. The particles are deposited on the individual filter bags. Openings integrated especially in the filter system enable a part of the exhaust gas not to have to flow through the filtering material. This design lowers back pressure and enables the employment of an effective filter system, also in case of applications with normally unfavourable prerequisites.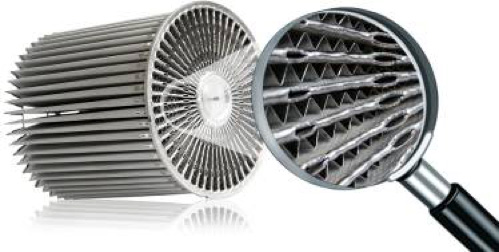 Above an exhaust gas temperature of 200 °C, the regeneration (cleaning) of the filter starts. The nitrogen dioxide formed with the aid of an oxidation catalyst (NO2) impinges on the deposited soot on the filter bags. The soot particles are oxidised and reduced in this case; the NO2 previously formed is reduced again to nitric oxide (NO). As a result of this chemical process being repeated continuously, the HJS partial-flow sintered-metal filter cleans itself continuously and usually does not require any additional regeneration aids, such as for example a support of the engine management.
The filtering grade required for the respective application can be adapted in a wide range with this HJS technology. Practical experience indicates that the partial flow sintered-metal filter is almost maintenance-free since, as a result of its special design, significantly less ash component parts deposit than with other systems.
For the support of the regeneration, the HJS partial-flow sintered-metal filter can also be delivered with a catalytic coating.
Area of application
The HJS partial-flow sintered-metal filter is used, where its PM reduction is sufficient to adhere to the legal limit values (e.g. India BS IV). With fluctuating fuel quality, this filter from HJS has advantages, since it cannot clog up directly. HJS SCRT® systems are available both for application in the original equipment and for retrofit.