HJS presents filter solutions at FILTECH

Technology for filtration and separation in industrial use
For the second time in a row, HJS, the filter specialist from the Sauerland region, is presenting its product portfolio for industrial applications at the FILTECH trade fair in Cologne. From 14 to 16 February, HJS will be presenting its industrial solutions for the filter medium sintered metal at the world's most important conference for filter and separation technology.
HJS is a global leader in providing a revolutionary approach to emission reduction through its leading-edge sintered metal filter technology – SMF®. It´s patented sintered metal filter technology (SMF®) has proven its worth over the past decades in the filtration of exhaust gases from internal combustion processes and is used by a large number of vehicle and construction machinery manufacturers to meet the most stringent exhaust standards. By using this method, the strictest requirements for particle number reduction can be achieved.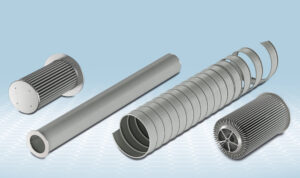 In the last 15 years, more than 2 million m² of the 0.4 mm thin sintered metal filter material has been produced on HJS's fully automated production lines.
SMF® is a mechanically and thermally highly stable filter medium that can be pleated in a similar way to paper or other synthetic filter media and is produced as a continuous belt.
In the filtration of liquids, the material shows best results in the multi-pass test according to ISO 16889 with a very high selectivity at 10 µm. For the series material made of 310S steel measurements for gas filtration according to ISO 16890 showed a separation efficiency ePM1 of 85%, which corresponds to F9 according to EN 779.
For the widest possible range of applications, other steels (316L) as well as coarser filter materials with approx. 20 µm and 30 µm selectivity are also used.

Breakthrough for heated gas filtration up to 800 °C / 1.500°F with HJS Sintered Metal Filter Technology SMF®
SMF® is particularly suitable for hot gas filtration. In many industrial manufacturing processes, very high temperatures of more than 800 °C / 1.500 °F produce large emission loads with high solid contents (dust loads) which must be filtered efficiently due to the given environmental standards.
Due to the low temperature resistance of the textile bag filters used today, the exhaust gases must therefore be cooled down extensively at the cost of high energy losses. Alternatively, with the help of SMF®, direct dedusting of the hot gases can take place and the dust-free hot process gas can be used for energy recovery with the help of Organic Rankine Cycle (ORC) – a technology that converts thermal energy into clean electricity and, if necessary, useful heat. This saves immense amounts of energy and thus helps to drastically reduce CO2 emissions.
In order to verify the function of filter elements made of SMF® for industrial high-temperature dedusting in this application, tests were carried out according to VDI 3926 with PURAL NF and with lime dust.
The design principles for future filter elements and the jet pulse cleaning method for cleaning were developed by varying the parameters (filtration speed, cleaning pressure) and the regeneration behavior of the SMF® material under realistic boundary conditions was demonstrated.
In addition to the basic technical investigations and tests, the current focus is on the industrialization of the manufacturing processes required for the production of the filter elements. For the production, among other things, welding processes must be automated and quality tests standardised in order to be able to produce filter cartridges with a diameter of 160 mm and a length of up to 10 m in near-series quality.
Our current projects thus prove, as in the application described above, the optimisation possibilities in existing processes and applications with regard to efficiency and energy.
If you would like to learn more, please visit us at FILTECH hall 8, Stand D22. As we look forward to a positive exchange, we would like to extend a warm welcome to all interested parties.