HJS: ready for industrial evolution
New market focus for proven filter technology
HJS, a company based in the Sauerland region of Germany, is a market leader in the field of exhaust gas aftertreatment: thanks to the proprietary technologies it has developed, hundreds of thousands of diesel vehicles are driving cleanly along Europe's roads. HJS is expanding its field of application to include industrial filtration which has benefitted from their extensive experience on combustion engines.
HJS Emission Technology, Menden, has developed and produced filter solutions that are primarily used in the automotive industry since the 1990s. HJS meets the strictly controlled environmental regulations for diesel engines with the help of particle filters which are developed by HJS engineers. These filters remove the soot and fine dust from the exhaust gas. Hot exhaust gas flows into the filter housing and through a coated porous sintered metal mesh, which traps almost all soot and dust particles in microscopically fine pores. Almost 100 percent of the impurities are trapped, resulting solely in clean exhaust gases which are released from the exhaust.
In 2003 HJS was awarded the German Environmental Prize for this simple operating principle.  The filters do not require ceramics and they are made of sintered metal: a mixture of metal powders is applied to an expanded metal mesh under pressure and heat. This produces a thin strip material less than half a millimetre thick with a porous metal surface that has a number of practical properties for use as a filter. They can be individually machined and formed into a wide variety of shapes for any application. This material provides excellent reliably at high operating temperatures and exhibit a high inherent stability so that no additional support bodies are required. Cleaning the filters is simple, and the process can be automated without a service disruption during operation. At the end its service life, the filter is completely recyclable.
The technology has been tried and tested in the automotive sector for years, but its versatility also makes the material a viable option for industrial use. That's why HJS now wants to demonstrate its growing experience in new fields of application: There is an enormous demand for filtration solutions in industry. In terms of application, it extends across the fields of biotechnology, food production, the manufacture of medicines and vaccines, and the entire range of the chemical industry from industrial gases to petrochemicals. The Sauerland-based company has identified hot gas filtration in factories, workshops and heavy industry as suitable areas of application. Liquids can also be filtered efficiently and with low maintenance using sintered metals: "Sintered metal filters are extremely stable and easy to clean. Our tests have shown that they are particularly suitable for tasks in hydraulic and fuel filtration," explains Klaus Schrewe, Head of Innovation and Strategic Product Management at HJS. "However, the product also offers a wide range of applications for all gases and liquids – because it can be used so flexibly."
Independent tests certify that the HJS sintered metal filters have an ePM1 value of 85 percent and thus meet the requirements for industrial gas filtration. In the multipass test with hydraulic oil, a Beta 100 efficiency of 9.6 µm is achieved. A plasma technology company is already using HJS filters. Sintered metal is also predestined for hot gas purification in lime and cement works due to its thermal properties. In contrast to conventional bag filters, metal spiral-wound cartridges made of sintered metal can eliminate the need for costly and energy-intensive cooling of the hot gases.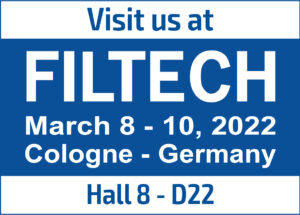 At its site in Menden, HJS can produce up to 300,000 square metres of sintered metal per year on a continuous belt, automated and OE-compliant. Behind the simple-sounding filter principle lies years of research and continuous search for clever filter designs and suitable starting materials. HJS can now use its decades of experience in closely controlled exhaust gas aftertreatment in the industrial sector. The company will be present at FILTECH, the trade fair for filter and separation technology in Cologne, from 8 to 10 March to promote the extended application of the technology.