Sintered Metal Filter with External Regeneration
SMF-ER®
It is vital that the correct diesel particulate filter system (DPF) is selected for short term use. These applications can be retrofitted with the HJS SMF® ER system in order to remove harmful soot particles from the exhaust. The SMF® ER system is characterised by its easy installation and removal from the machine thanks to its quick release clamps. The SMF® ER offers several advantages to machine operators as it provides an economical solution for equipping an entire fleet of similar construction machines. HJS provides a range of baseplates that can be installed to each machine of equipment which enables a single filter to be used across a range of machines. The regeneration requirements of the filter are displayed via a simple to read gauge and the filter can be removed and cleaned on the operator's site.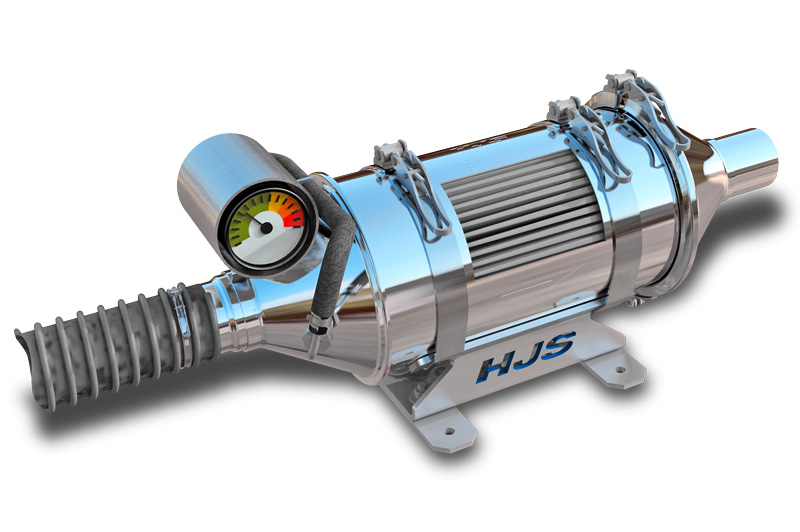 Technology and functioning method
After connection of the flexible hose to the existing exhaust gas system, the exhaust gas is filtered in on-going operation for so long until the limit value is reached, as indicated by the attached pressure gauge. The filter module is pulled out by opening the quick-action locks and cleaned externally. As a result of the modular structure, the system can be mounted or replaced simply on every machine.
External regeneration
After the soot contamination of the sintered metal module, the cleaning is implemented externally – either in the furnace or by using water with a high-pressure cleaner. The water is collected in a container and disposed of according to the municipal specifications. The cleaning process with water takes a few minutes.