HJS at busworld
HJS will be exhibiting at busworld in Brussels, which will run from October 18 to 23. Visitors to the fair will be able to obtain all the information they want about HJS and its latest technologies and service offerings by coming to the company's stand (3108) in Hall 3.
Uncompromisingly clean diesel as the key to clean inner cities

HJS serves the full bandwidth of commercial vehicles with Euro VI emissions technology: from vans through municipal vehicles to buses, certified according to the Clean Vehicle Retrofit Accreditation Scheme (CVRAS) (UK) or Kraftfahrt-Bundesamt (KBA) provisions (Germany).
For years, local authorities across Europe have been battling against the continuing poor air quality prevalent in many city centres. The goal being followed by politicians is to significantly reduce air pollution in the shortest possible time without restricting mobility or logistics. Retrofitting diesel-powered commercial vehicles with the best possible emissions-reduction systems is a quick, effective and economically viable alternative to drastic driving bans.
Expansion of financial support to other vehicle classes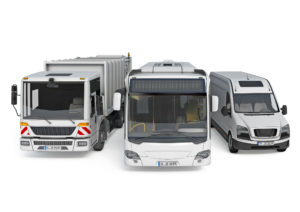 Over the course of the year, the programmes to promote the retrofitting of commercial vehicles with state-of-the-art emissions systems have been extended both in Germany and in the UK. After kicking off with public transport buses, the two governments have expanded their programmes to cover municipal vehicles and light commercial vehicles, and they have also raised the level of subsidies on offer up to 95%. At the upcoming busworld trade fair in Brussels/Belgium, HJS will be presenting its very latest technical developments for this segment.
Cutting pollutant levels as much as possible, not merely as much as legally required
State-of-the-art Euro VI diesel vehicles offer maximum exhaust gas purification through the combined use of particulate filters and SCR technology. That said, especially in inner-city traffic, vehicles often fail to reach the temperature levels required for the SCR catalytic converter to function optimally. This is intensified yet further in winter by the low ambient temperatures. The only way vehicle manufacturers are able to meet the high requirements of the Euro VI emission standard
under all operating conditions is by integrating thermal management for the engine.
HJS has adapted this approach with its SCRT®-TM architecture designed specifically for retrofitting. SCRT®-TM enables existing Euro V/EEV vehicles (which have no in-engine thermal management) to operate with the same emissions levels as today's Euro VI buses and reduces emissions even in inner-city operation by up to 95% – that's 10% more than is required by the KBA in Germany to obtain a type approval certificate.
How SCRT® with active thermal management works
Active thermal management uses networked actuators to ensure that the SCR catalytic converter always achieves maximum possible NOx reduction – without affecting the engine. In addition, particulate filter regeneration is ensured by active thermal management even in the coldest of operating conditions. "The demanding subsidy rules in place in Germany are one aspect necessitating the use of active thermal management, but our aspirations go beyond mere compliance with the rules – we want to offer the best, technically feasible NOx reduction performance and guarantee this sustainably and permanently in everyday operation," says Jan Ebbing, Head of Sales at HJS.
HJS – your one-stop partner for a wide range of products and services – all around the world
The systems developed and manufactured by HJS are being deployed all around the world by OEMs and vehicle and machinery operators. But HJS also offers a comprehensive service that goes beyond the development, manufacture and delivery of these systems. This includes flexible installation concepts, training courses and a comprehensive service network, as well as global, on-site customer service, including our own locations in the UK.  This broad delivery spectrum includes systems for all main types of bus on Europe's roads as well as for the most popular models of light-duty truck, van and municipal vehicle in use around the continent.